ESA615 Electrical Safety Analyzer
Click the categories below to filter...
Test to any standard in minutes with the ESA615
The ESA615 Electrical Safety Analyzer brings fast and simple automated testing in the form of a portable analyzer to healthcare technology professionals that perform electrical safety testing on medical equipment both in the field and in facilities. Whether it is simple testing or comprehensive analysis, the ESA615 can do it all. The ESA615 is an all-in-one solution with a safety analyzer and ECG simulator in a single electrical safety test instrument.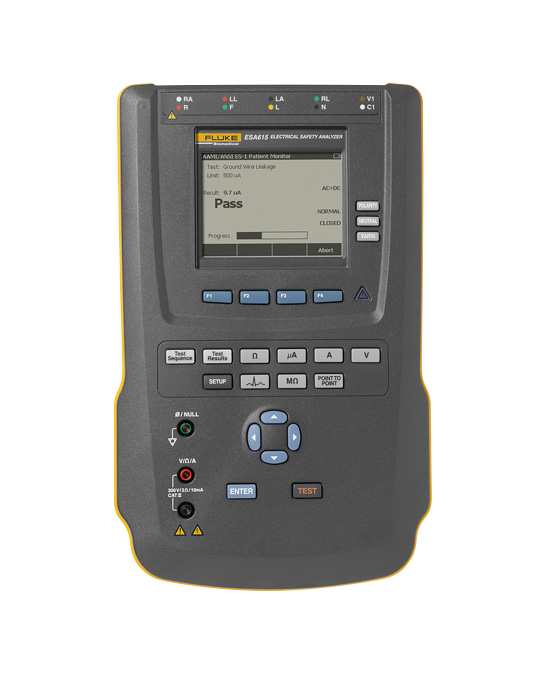 ESA615 Electrical Safety Analyzer
Portable, ergonomic design with an integrated handle and tilt stand
On-board automation with automated test sequences for easy compliance to key global electrical safety standards (ANSI/AAMI ES-1 (NFPA-99), IEC62353 (VDE751), IEC60601-1 2nd and 3rd editions, and AS/NZS 3551)
User-friendly interface for streamlined testing
ECG waveform tests and dual-lead measurements combine the functionality of a simulator and safety analyzer in a single test tool
Five applied parts jacks and easy ECG snap connection; optional expander box for up to 12-lead ECG testing
Easy data entry through barcode external keyboard or on-board keypad
Wireless communication plus removable memory card for fast and convenient data storage and exchange
20 A at 120 V current capability
Replaceable mains fuses keep your unit in the field and out of the repair shop
Custom language selections include: English, French, German, Spanish, Italian and Portuguese
Rigorously tested for rugged field applications with CE and CSA in addition to Fluke-quality- ruggedness for long-term reliability
Two-year extended warranty (no-cost available after first-year calibration at any authorized Fluke Biomedical Service Center)
Global support network delivering prompt service and peace of mind to Fluke Biomedical customers worldwide