QA-ES III Electrosurgical Tester and Analyzer
Click the categories below to filter...
Complete electrosurgical testing and preventive maintenance for ESU devices
Easily test and wirelessly* download all critical functions using the QA-ES III ESU analyzer. Quickly collect all measurements, including vessel sealing, contact quality monitor (CQM), high frequency (HF) leakage, and output power distribution (single or continuous mode) with the user-friendly interface guide.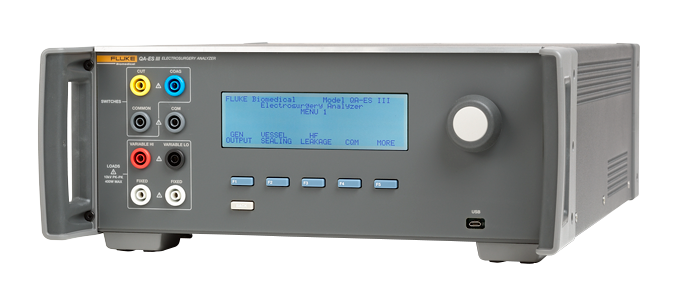 QA-ES III Electrosurgical Tester and Analyzer
Test all critical ESU functions with precise power, current, frequency, crest factor and load resistance ranges
Collect measurements in single and continuous mode
Connect wirelessly via Bluetooth for easy record retrieval without interference or limitation by cables and wires*
Comply to all global standards, including ANSI/ AAMI and IEC**
All-in-one tool: all hardware and software necessary to complete preventive maintenance and troubleshooting is built in to the unit, eliminating the need to purchase or transport additional cables, leads, switch boxes and RECM box
User-friendly interface: large buttons and LCD screen guide the user through test sequences
Memory storage of up to 5,000 test records, eliminating the need to download data after the completion of each preventive maintenance or troubleshooting session
*Wireless capabilities not available in all countries. Ask your sales representative for more details. **Bipolar leakage testing performed with 200 ohm fixed load.